Sanjana
On finding community among other cultures
I had an atypical childhood. I was born in Virginia, moved to India when I was 8 and then came back to the United States for high school. As a brown girl growing up in 90s Virginia, I experienced a lot of racism from my elementary school classmates. While most of the kids in my class were nice to me, there were still the remaining 10% who simply didn't like me because of my skin color. Their remarks hurt me deeply and had a significant impact on my sense of self worth as a child. I was quite shy because of it and didn't find confidence in myself until much later in life.
We were still living in Virginia when the 9/11 attack happened, and racism became even worse in our community. Going to school became dangerous. Students were bringing guns to school and parents told their children to stay away from Brown kids. It was becoming very unsafe for us to stay in Virginia, so we moved to India with the hopes that we would receive a better education, belong to a community and learn more about our culture. I would also be around more family because most of my mom's family is there. It's funny, I thought that once we were in India I wouldn't have to experience the feelings of otherness that I experienced in Virginia. Once I got there, however, I experienced huge culture shock and realized that because I wasn't born in India, I was still considered an outsider. 
Even though I am Indian, I wasn't Indian to them.
Tweet
I didn't know anything about India before we arrived, except for the language we spoke at home and a few things my parents told me. Every aspect of our life seemed to change, including who lived in our home! Family is a very big deal in India, and there's this concept of a joint family, meaning that everyone, your mom, dad, kids and then your uncles and grandparents are all living under one roof. So, not only did I find myself in a completely new place, I now had all of the adults telling me what to do. As an 8 year old, I couldn't adjust to the home environment and school was just as bad as in Virginia with taunting and exclusion. Even though I am Indian, I wasn't Indian to them.
Aside from being born in America, there were other cultural differences that kept me apart from my classmates. One big thing was that I was being raised by my mom. My dad had to stay in Virginia for his job, so it was just my mom and us. India is a very patriarchal society and not having a father figure was considered very unusual. Dads have more say in a family than moms do and typically run the home. The notion back then was that you needed to have a man in your life otherwise your life was made much more difficult. My mom, on the other hand, was the one in charge. She taught us how to be independent and how not to have to rely on others. While I became fully capable of cooking, cleaning and generally caring for myself as a result, it would still take me several years to feel fully in charge of my presence in the world.
After middle school, my parents sent me to boarding school which they thought would reduce the amount of ongoing change in my life. In the end, boarding school perpetuated my feelings of being the odd one out. The kids from Indian society were so different from me and while I tried to mingle with the kids from other foreign countries, there were so few of us that it was impossible for us to build a true community. I decided that I'd had enough and begged my mom to let me leave India for California. Once we arrived in Southern California, I started attending high school in Glendale. People may not know this, but Glendale has a very large Armenian community. Many people living in Glendale have an ethnic background, bringing in a medley of cultures from Armenia, the Middle East and parts of Asia. It felt like everybody shared an experience of being from different heritages, which allowed us to connect.
There weren't many Indians living in Glendale at that time and so people would come up to me and ask, 'where are you from? Which festivals and holidays do you celebrate'? For once, people were curious and wanted to know more about my heritage. It was through those conversations with my Armenian and Middle Eastern classmates that we realized how similar we all were. Even though we came from different countries, we shared similar family dynamics, dishes and even our languages had shared words across them.  
It was in Glendale that my confidence levels really grew and everything became better from there. I recall my brother inviting me to an Indian film festival in Los Angeles and the rush of familiarity and acceptance as I met with the filmmakers. That one film festival changed my entire outlook on the possibility of finding community. All of a sudden, I had a desire to share my story and grow my network. Then, college gave me the chance to meet more people and I finally became comfortable putting myself out there. I realized that the more people I met, the greater the chance I would find someone else like me.  And maybe, just maybe, I wouldn't always have to be the odd one out. 
I realized that the more people I met, the greater the chance I would find someone else like me
Tweet
I started working as soon as I could legally work. My mom had instilled a sense of independence in me and I'm proud to say that I put myself through college without any additional help. I paid for my books, rent, everything. While it was tough, I'm really glad that I did it because it made me a much stronger and more independent person. I now know that I don't need to rely on anything or anyone. I can survive any circumstance or be in any country, having lived in two which are worlds apart.
I'm pretty grateful for the challenges that I've experienced in my life. Everybody has problems, so with that in mind I try to make the best out of it. I ask myself, what did I learn from it? Moving around from one place to another had a big impact on my childhood; so much so that I've created a life goal around it. My dream is to stay in one place and to be able to call it home forever. It's been over 11 years since I moved to Southern California and out of all of the places where I've lived, this is the closest to feeling like home. I've found peace and a sense of belonging that I'd never known previously and a community that loves me for who I am.
Thank you for reading this story from the Belong Collection. Our affirmation candles serve as a physical reminder to embrace your power.
We donate 10% of revenues from our Belonging affirmation candle to The Downtown Women's Center.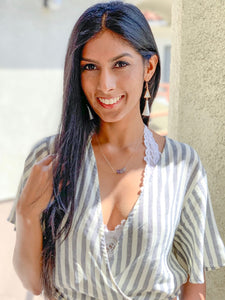 About Sanjana
Sanjana is a Los Angeles based henna artist who specializes in bridal, weddings and special events.
Her love for art started at a very young age and paved the path to become a henna artist. She started doing henna as an outlet to express and embrace her culture. With a bachelor's degree in Marketing, she took advantage of her education to establish Henna By Sanjana and has been a professional artist for 7 years now. She loves working with her clients to give them their best henna experience for their special day. 
Aside from being an artist, she loves cooking, exploring trendy spots in LA, biking on the beach, traveling, and spending quality time with my loved ones.